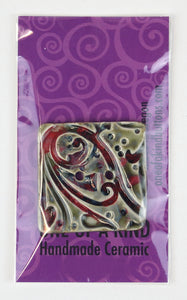 XL Square button in beautiful Olive w/Maroon with a Scroll texture. Approx. 1 3/4" Square. (*card says Shawl Pin but it is actually a button)

These stunning buttons are truly One Of A Kind. Hand made by local artist Candace Van Beveren-Wilson, these artistic and unique buttons are fine quality ceramic with gorgeous glaze finishes and textures. Since they are so unique, once they are gone, they are gone!
Use them on wearable art, hand made books, fiber art jewelry, handbags, felted items, art quilts and more. 
*These buttons are quite durable, can be hand or machine washed inside out on gentle, but should not be placed in the dryer as they can chip. Hand washing is recommended*