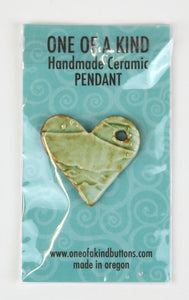 Ceramic Pendant in beautiful green with touches of amber finish. Approximately 1 3/8" x 1 1/4".

These stunning pendants are truly One Of A Kind. Hand made by local artist Candace Van Beveren-Wilson, these artistic and unique pieces are fine quality ceramic with gorgeous glaze finishes and textures. Since they are so unique, once they are gone, they are gone!
Use them on hand made books, fiber art jewelry, handbags, felted items, art quilts and more. 
*Hand washing and flat lay drying recommended*