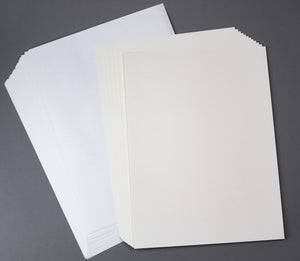 These papers are perfect for the beginner to intermediate bookmaker! The kit contains 9"x12" papers in 90lb Watercolor (12 papers) and 60lb Sketch (24 papers). Use the papers for building books or to create an Art Journal insert for an Explorer's Journal (think Traveler's Journal).
Watercolor paper is a 90lb which is a lighter weight paper for mixed media, drawing, painting, watercolor paint, etc.
Sketch paper is a 60lb paper (slightly heavier weight) that is perfect for eco dyeing, painting, 'aging', stamping, spattering, etc. for that perfect 'Junk Journal' look, or just leaving as is for journaling, sketching, etc.